Soft, fluffy and delicious, this easy and quick focaccia bread is ready to eat in only one hour! Top with traditional rosemary and salt, or the topping of your choice.
My whole family loves focaccia. Aside from Challah it's the bread I bake most frequently at home. With its soft, fluffy texture, savoury herby topping, and the rich flavour of olive oil, it's easy to see why it's a favourite.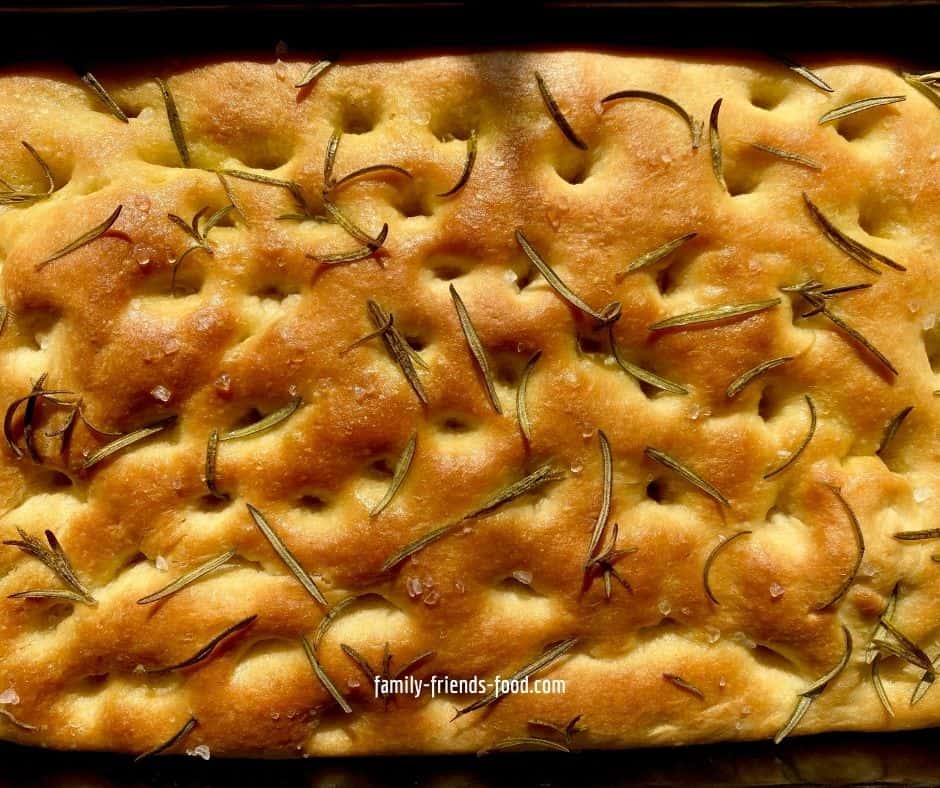 Memories of focaccia
Some years ago, we took a family holiday to Venice. Our daughter Kipper was only about 5 or 6 years old at the time. We stopped in the kosher bakery in the Jewish Ghetto to get a snack, and Kipper chose a large slice of olive focaccia.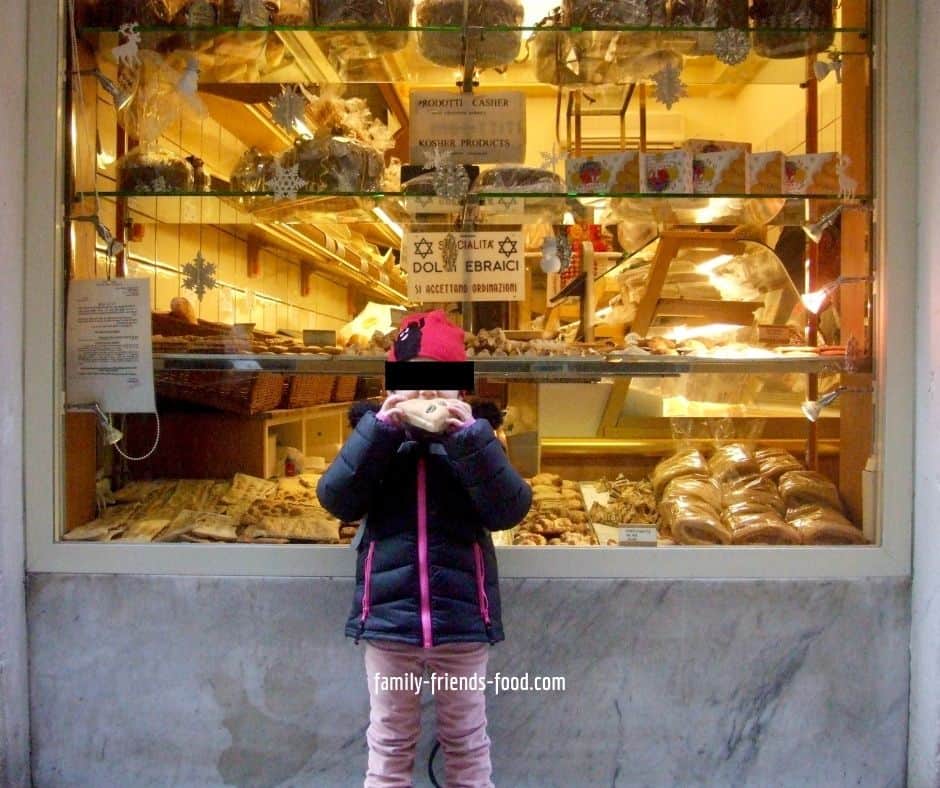 Her Dad and I assumed we would get to share it, but in the few moments it took me to snap a photo outside the shop, she'd already wolfed the whole thing down! That episode cemented focaccia's place as a beloved family treat.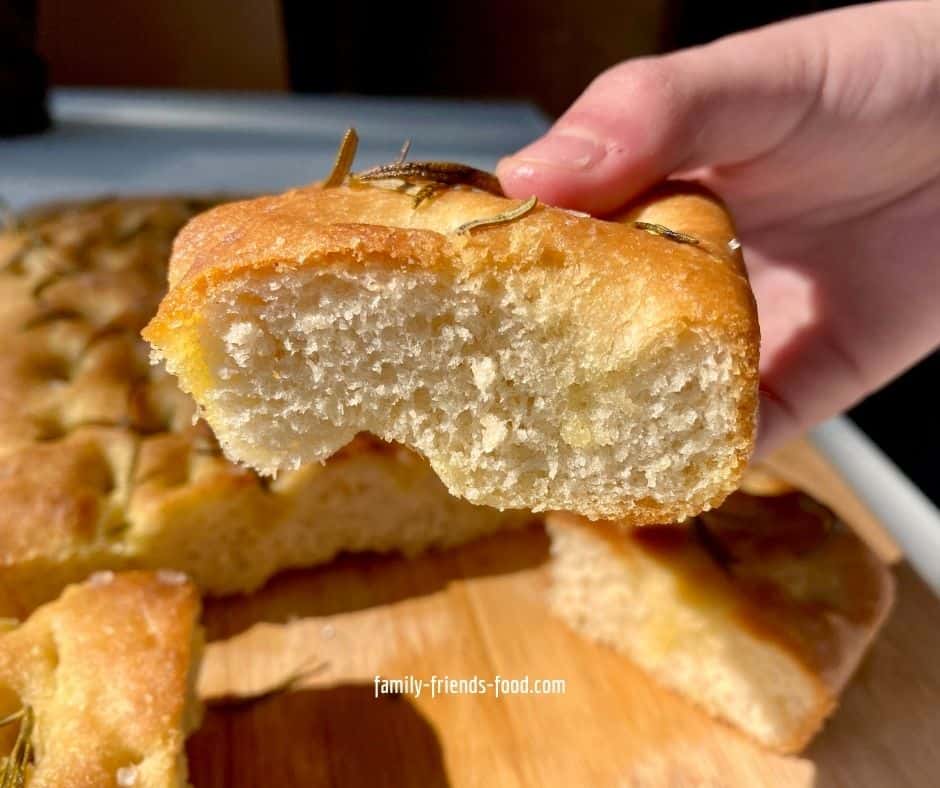 After-school cooking
I recently volunteered to run an online after-school cooking club for Kipper's school. Ingredients lists are sent out in advance and the sessions are held on zoom. Everyone cooks along together and can chat and ask questions as we go along.
We chose International recipes as the theme – travel the world through food! Recipes included Scottish shortbread, Swedish pankakor (pancakes) and Moroccan carrot salad. And I pencilled in Italian focaccia as the last session before half term.
Quick focaccia
The sessions last for about an hour. I'd never made focaccia in only an hour before. But I figured, if I can make a (more than) decent challah in 60 minutes, I must be able to make a quick focaccia too, right?
It's as well that I had a few weeks to experiment and get the recipe right! I tinkered with the ingredients, oven temperature, when and how much olive oil… But I was finally so happy with this quick focaccia that I wanted to share it with everyone!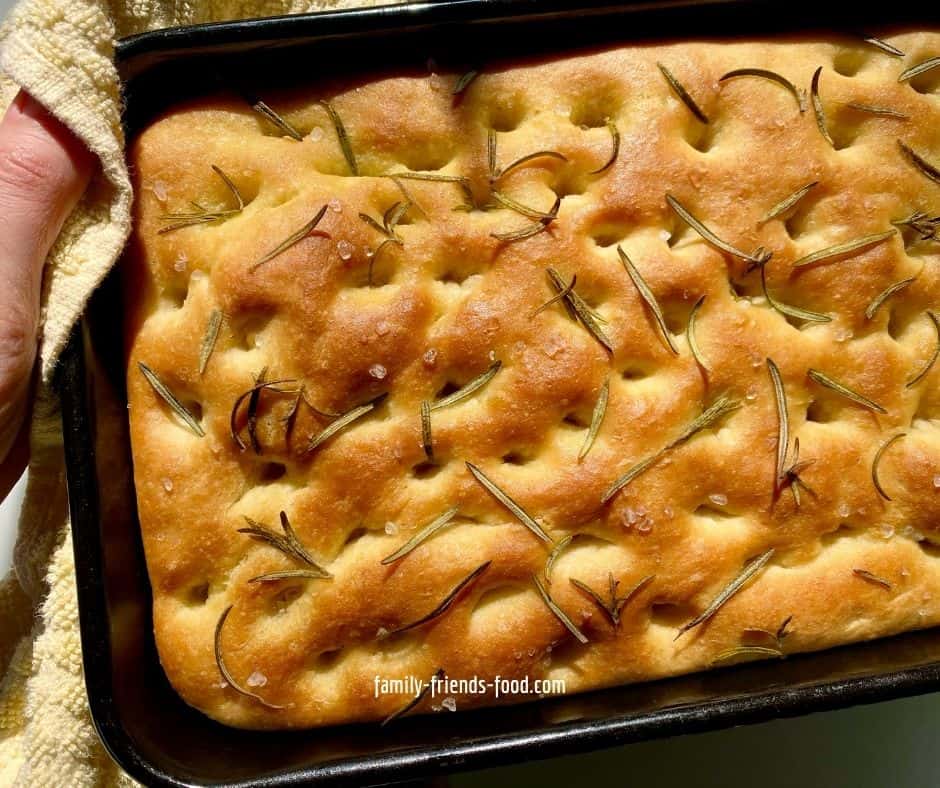 Delicious & quick focaccia
Although it takes only 60 minutes from weighing out the flour to taking your finished focaccia from the oven, this really is a fantastic Italian bread. The method might not be 100% authentic but the results speak for themselves!
This quick focaccia is soft, fluffy, and deliciously tasty. It's rich and oily, but is still well able to soak up more olive oil or balsamic vinegar en route to your mouth!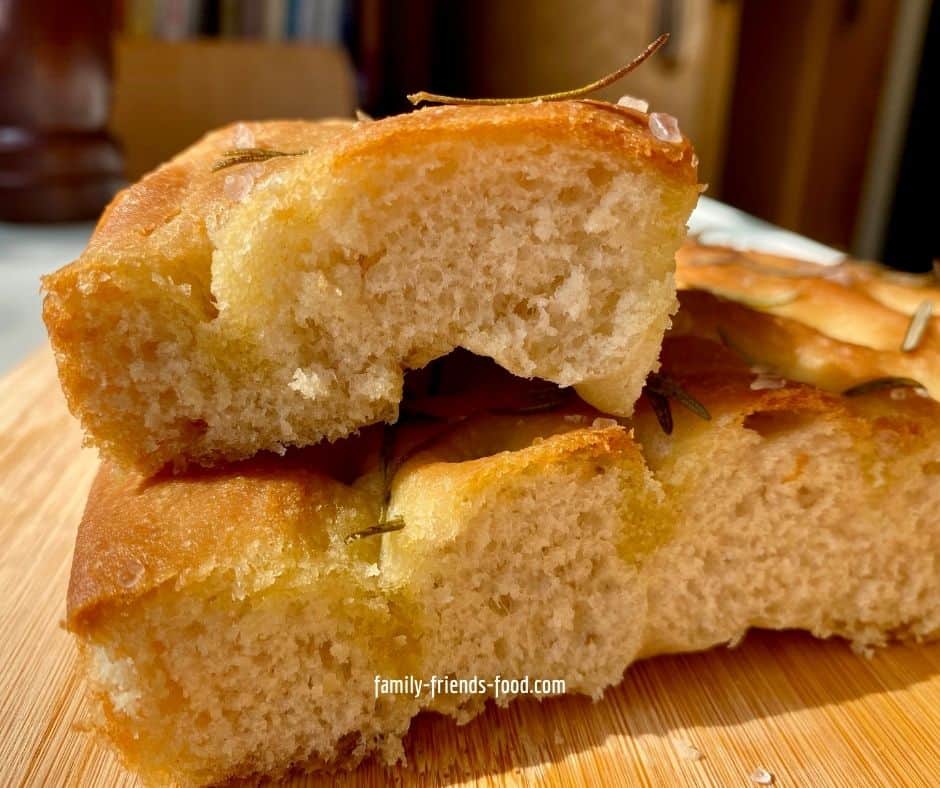 Toppings for quick focaccia
When we made this quick focaccia in our after-school cooking club, we used the traditional toppings of rosemary and flaky sea salt. In my opinion this simple garnish is still the best!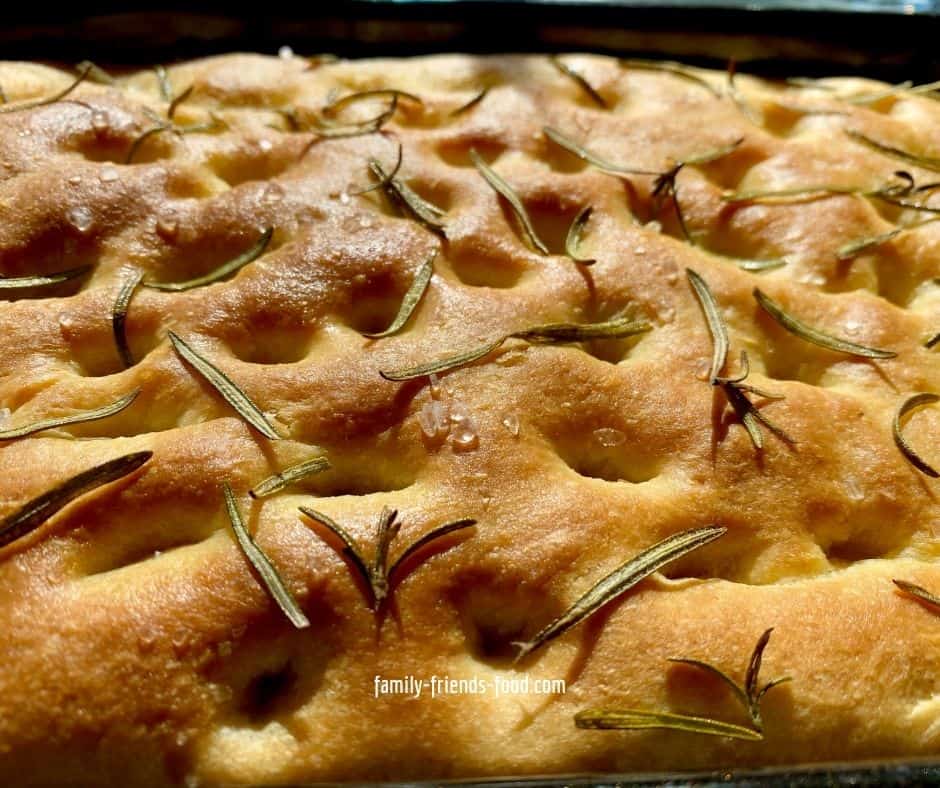 However, you can use this quick focaccia recipe as a base for whatever toppings you prefer. We also love it with olives, like the one we ate in Venice that time. Some ideas for focaccia toppings include:
rosemary and flaky salt – the classic!
olives – black, green, or a combination
sun-dried tomatoes
caramelised onions and crumbled feta
pesto and cheese
roasted peppers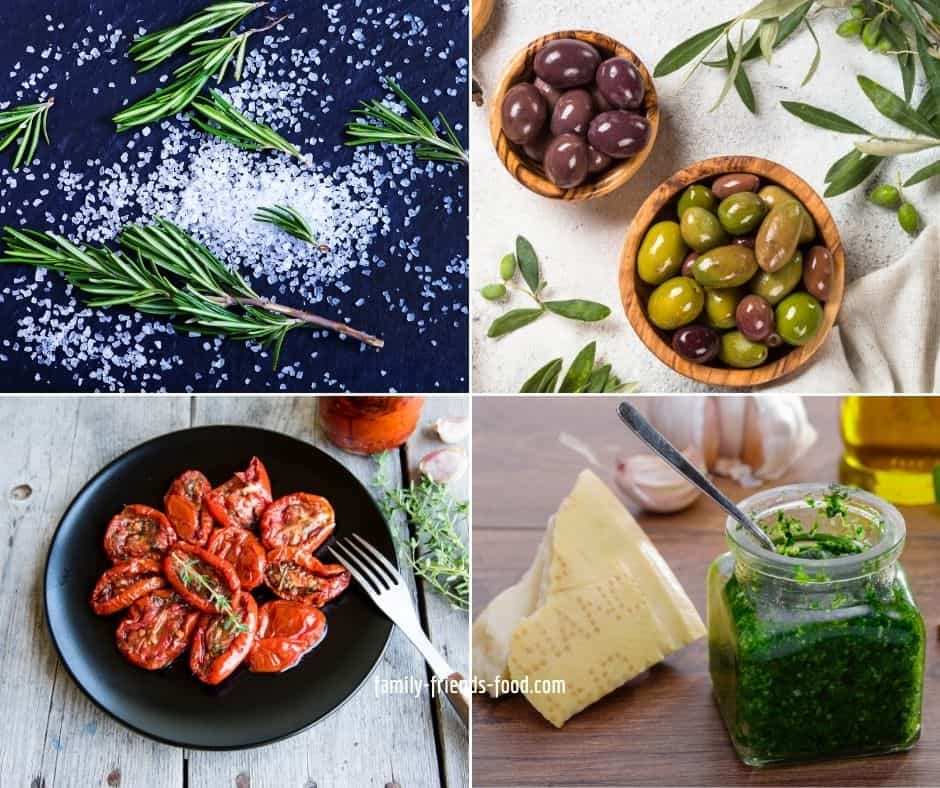 You can also use this quick focaccia as a base for 'focaccia art'. Use a selection of vegetables and herbs to create beautiful pictures on your focaccia!
Quick focaccia ingredients
Aside from your chosen toppings, to make focaccia in an hour you will need:
plain (all-purpose) flour
strong white bread flour
instant yeast
salt
sugar
extra virgin olive oil – lots of it!
warm water
And that's all!
Of course you'll also need a mixing bowl, a baking tin and an oven, but I'm guessing that if you're considering making focaccia, you probably have those!
How to serve quick focaccia
This easy and quick focaccia recipe makes a small-medium sized bread, which can be cut into about 6 servings. It's wonderful with soup, or as part of a buffet lunch or informal supper.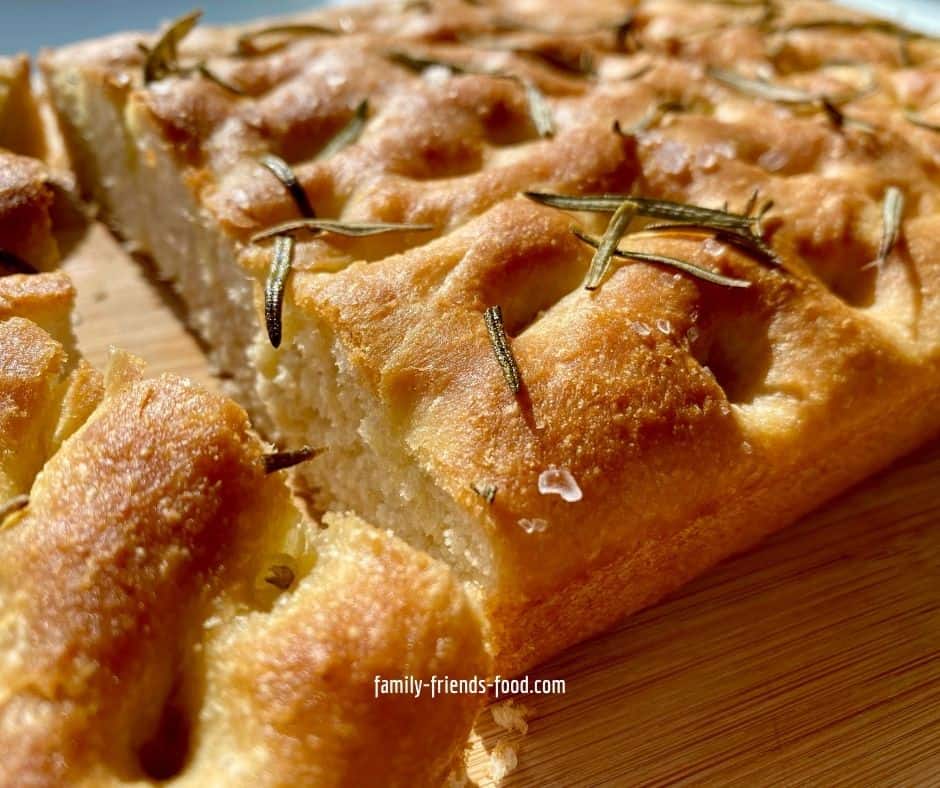 It will keep for a couple of days in an airtight box, and can easily be rewarmed in the toaster. Try dipping the warmed bread into olive oil, balsamic vinegar, or even softened butter – it's so delicious!
You can also cut strips of focaccia and dip them into humous or other dips like this fabulous feta cheese dip.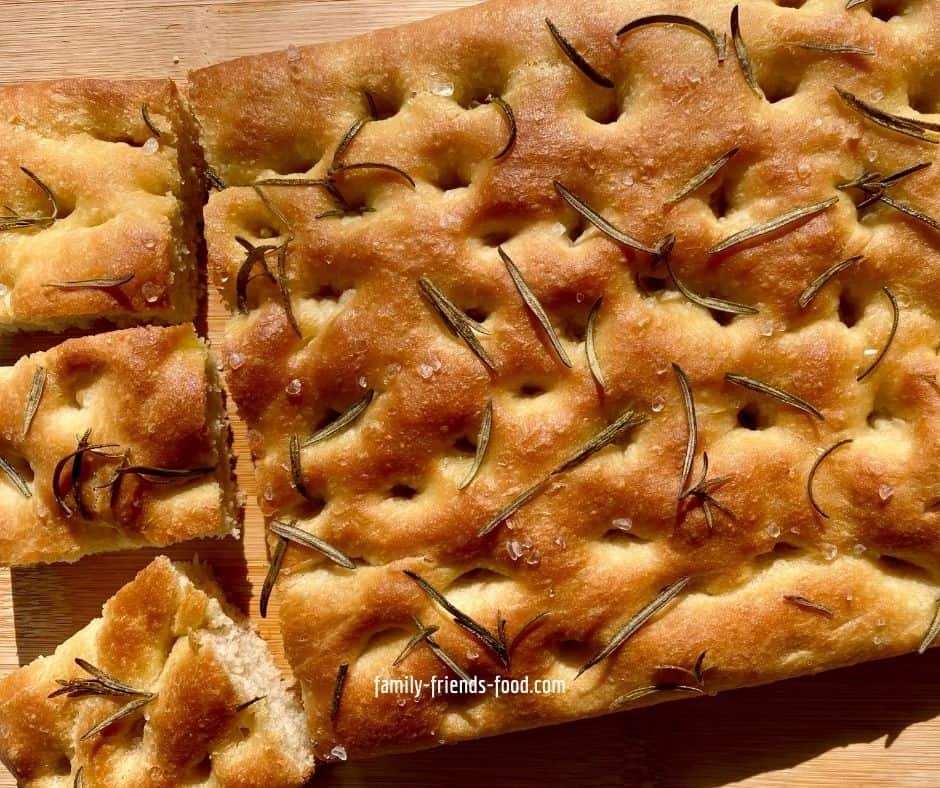 Quick focaccia – a family treat
Now, however quickly my daughter can scoff her focaccia, there's always some left for her Dad and me.
And it doesn't even take long to bake some more!
If you want deliciously easy, family-friendly recipes like this one delivered straight to your inbox, simply click here to subscribe. (Of course, I'll never pass on your email address to anyone.)
Quick focaccia in one hour
Equipment
29 x 18cm (11 x 7 inch) baking tin
Ingredients
100

g

plain (all-purpose) flour

135

g

strong white bread flour

½

tsp

salt

1

tbsp

sugar

7

g

instant yeast

(Usually 1 sachet but check the weight!)

150-180

ml

extra virgin olive oil – divided, see recipe

135

ml

hand-hot water
Suggested toppings
flaky salt and rosemary

olives – green, black or a mixture

sun-dried tomatoes

caramelised onions and crumbled feta

pesto and grated mozarella

roasted peppers
Instructions
Put the flours, salt, sugar, instant yeast, water and 3 tbsp of the olive oil in a mixing bowl. Mix with a spoon until you have a shaggy ball then tip out onto the counter and knead the dough by hand. Continue to knead for 5-10 minutes until you have a ball of smooth, silky dough.

Place the ball of dough in a lightly oiled bowl and cover with a clean tea towel, a lid, or plastic wrap. Place in a very warm place e.g. airing cupboard, by a radiator etc. for about 5 minutes.

Use another 2-3 tbsp of the olive oil to grease the base and sides of a 29 x 18 cm baking tin.

Turn out the dough and knead briefly. Use your hands to squash, stretch and pat the dough out into a rectangle roughly the size of the tin. Transfer the dough to the oiled tin and squash, pat and ease the dough to the edges of the tin. It should be a roughly even thickness all the way across.

Cover the baking tin with a tea towel, plastic wrap, or a lid, and return it to the warm place for about 15 minutes.

Remove the dough from the warm place and use your fingers to poke deep holes into the dough – press right down to the bottom of the tin. Gently brush 2-3 tbsp olive oil over the surface of the dough and then sprinkle with salt flakes and rosemary, or your choice of toppings.

Place the tin into a COLD oven, and turn on the heat to 200°C (400°F). The dough should rise rapidly as the oven heats up, and then bake once the temperature is reached.

After about 20-25 minutes, the focaccia should be well risen and golden brown on top. Remove from the oven and drizzle a further 2-3 tbsp of olive oil over the surface. Allow to cool slightly in the tin before lifting out. Eat straightaway, or allow to cool.
Nutrition
Nutrition Facts
Quick focaccia in one hour
Amount per Serving
% Daily Value*
* Percent Daily Values are based on a 2000 calorie diet.
More delicious bread recipes
If you love focaccia but aren't in a hurry, you might like to try this homemade olive focaccia, or Kipper's loaded cheesy breakfast focaccia.
If you're after more quick bread recipes, take a look at the original 60-minute vegan challah, or this delicious seeded soda bread with yogurt.