These roast scalloped potatoes are simple to make, and a great prepare-ahead side dish. Rosemary and garlic make it fragrant and delicious. Tuck in!
Do you find that when the nights are drawing in, your thoughts turn to delicious dishes of comforting potato, creamy soft within, crispy on top, and flavoured with gentle wafts of fragrant herbs and garlic? Mine do. There's something about these kinds of dishes that soothes the soul when it's dark and gloomy outside.
Delicious roast potatoes
It isn't just that it's a cosy dish of savoury carbs, although that helps! There's really something specific about potatoes, that makes them extra restorative. They offer the perfect balance – filling without being heavy, meltingly soft but also crispy, and of course they carry flavours so well. And they look so gorgeous too – just see…
Good to eat, and good for you
We tend to think of potatoes as providing easy carbohydrate, but they have a great deal more nutritional value than that! A single medium sized potato, including the skin, provides over 25% of your recommended daily intake of vitamin C, vitamin B6 and potassium. They're also a good source of antioxidants. Potatoes are also far less processed than some other carbohydrate foods like bread and pasta. They are a great thing to include in a healthy balanced diet.
Scalloped potatoes – ready for dinner
While I'm a big fan of potatoes in general, I particularly love a potato dish that can be part-prepared in advance, then left in a pre-set oven so it's cooked and lovely when you're ready to eat it. On this occasion, my daughter Kipper and I had been out to 'Kabbalat for Kids' – a child-friendly start-of-shabbat service – and arrived home, ready for our Friday Night Dinner.
Even better, our Friday Night Dinner was ready for us!
The glorious scent of garlic, rosemary and roasting scalloped potatoes filled the house. What a welcome!
Scalloped potatoes
Like so many of my best ideas, this dish of roasted scalloped potatoes actually started life as something else. It was supposed to be a potato & carrot layer bake, but having peeled the potatoes, I just couldn't be bothered to start peeling and grating carrots as well.
Then I though I'd just make the layer bake with potatoes & onions. But I remembered that we had some fresh rosemary that needed using up. And let's face it, garlic makes everything better. Plus, putting the slices on their side (like in this sideways gratin) makes it look so beautiful!
It also means that every single delicious slice of these scalloped potatoes is meltingly soft at one end and crisply golden at the other. Perfection.
Quick, easy, prepare-ahead
If you slice the potatoes in the food processor, this gorgeous dish of scalloped potatoes takes mere minutes to put together. Even if you're slicing by hand, it doesn't take very long. Once it's had its 10 minutes in the microwave, you can set it aside for a few hours till you're ready to bake it, so it's a perfect prepare ahead dish.
(If you're not bothered about preparing it advance, you can skip the microwave cooking step, but give the dish about another 10-20 minutes in the oven instead.)
Kipper and DH were both very keen on these roasted scalloped potatoes. We polished off the lot between us with our dinner. The long dark nights of winter don't seem quite so gloomy after all.
Want deliciously easy, family-friendly recipes like this one delivered straight to your inbox? Click here to sign up. (Of course, I'll never pass on your email address to anyone.)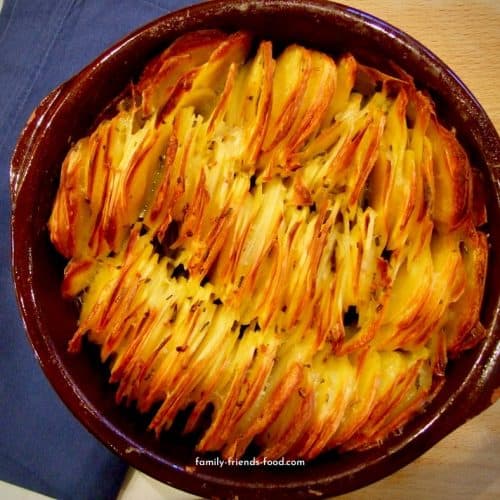 Roasted scalloped potatoes with garlic & rosemary
These roast scalloped potatoes are simple to prepare, and a great make-ahead side dish.
Ingredients
750-800

g

potatoes

(approx. 4-6 medium large potatoes)

3

cloves

garlic

1½-2

tsp

chopped fresh rosemary

50

ml

olive oil

150

ml

hot vegetable stock
Instructions
Preheat the oven to 180°C (350°F).

Peel the potatoes, and cut into 5-7 mm (¼ inch) thick slices (I do this using the food processor).

Rinse and drain the potato slices and transfer to a bowl with the garlic, rosemary and oil. Use your hands to mix everything together very thoroughly, so that each slice is coated with the oily mixture.

Arrange the potato slices on their sides in a 20 cm (8 inch) round baking dish. Pour the hot stock over the top, then microwave on high for 10 minutes. (The dish can be set aside at this point and baked later on.)

Transfer the dish to the oven and roast at 180°C (350°F) for 45 minutes - 1 hour, until golden brown and crispy on top. Serve immediately!
Notes
If you're not preparing this dish in advance, you can skip the microwave cooking step, but add another 10-20 minutes to the time in the oven instead.
Nutrition
Nutrition Facts
Roasted scalloped potatoes with garlic & rosemary
Amount per Serving
% Daily Value*
* Percent Daily Values are based on a 2000 calorie diet.
More spuddy good potato recipes
Other deliciously easy potato dishes you might enjoy include: